Facebook Reviews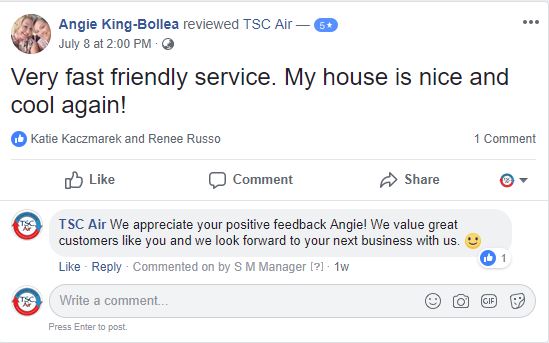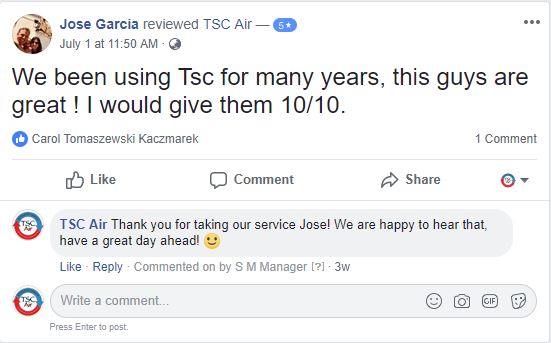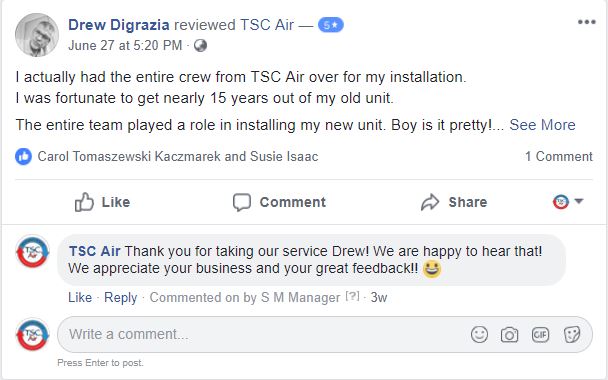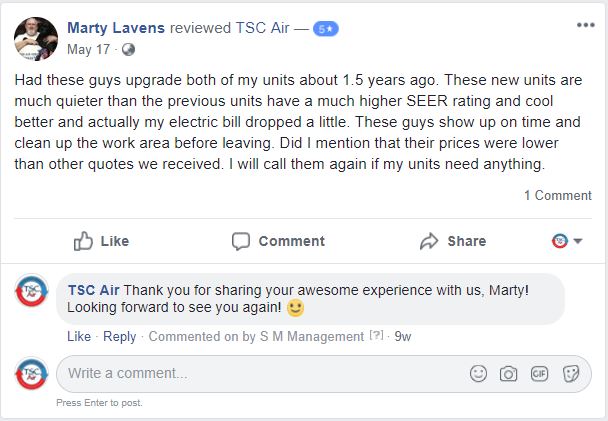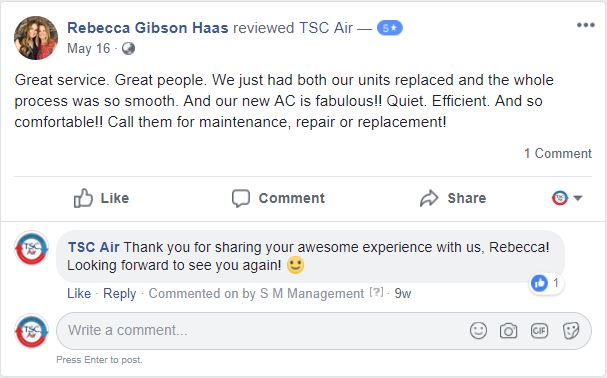 What our clients say about us
Keith was great, very nice and exceptional customer service. He took the time to listen to our concerns and assisted where he could. I love that they call you and schedule an appointment to ensure that the AC is in proper working condition prior to summer. We are happy to have a great company to call for all of our A/C and Heating concerns.

Melissa Sottosanti
Summer is around the corner and I wanted to make sure my A/C unit is ready. I chose TSC Air because of their commitment to providing exceptional customer service. Their knowledge and experience supersedes other companies I have used in the past. Fernando and Mike were professional and took the time to listen to my concerns and provided sound advice on how to continue to provide timely maintenance. I highly recommend TSC Air!! Also, ask about their maintenance plan.

Christopher Frye
TSC sent me an email with the technicians name and picture on it before my appointment. That in itself is terrific. Mike was on time, actually a few minutes early. He was polite, fast, and everything was great. I will use TSC again.

Greg LaMonica
Big shout out to Mike and Jacob at TSC Air for their excellent work during the upgrade of our HVAC system. These guys are top-notch professionals and the entire project from removal/disposal of the old unit, through in installation of the new unit, including smart thermostat install. Just a superb job – couldn't be happier!

We have had TSC Air maintain our HVAC systems over the last 12 years, 3 houses, 3 new systems. The results have been solidly consistent – professional service, expert guidance & engineering, white glove experience. Thank you Don, Josh, Matt, Dina and the entire TSC Air team!

Tommy Bray
Fantastic service as always. Keith was thorough and answered all questions I had. Highly recommended.

Carl Nasuta
TCS Air are very efficient. They come and Maintain out Heat pump and Furnace. Matt does a great job. Highly recommend .

Shelly Hattig
Keith from TSC Air came by yesterday to do a check-up on our new system (that they installed last year) and was on-time, friendly, knowledgeable and didn't leave a mess. Very Professional!

Love TSC Air…oh, and they are family owned and operated!

Raphael Isaac
TSC came highly recommended by a friend of mine. I hired them to install a two-unit AC system in a 54 year old home that I purchased a decade ago. I had a number of different quotes, but they were by far the most responsive to my needs. There were two rooms on either side of my house that were constant hotspots for the last 10 years. My office would regularly get to over 92 degrees in the summer while the rest of the house was in the upper seventies. My utility bill was over $600 in August 2009. TSC made sure to specifically address the hotspots by strategically placing registers exactly where they were needed – while maintaining maximum comfort in the rest of the home as well. The first utility bill came in, and I saved $80 this month alone, while enjoying true comfort for the first time in ten years. There were several other companies with comparable quotes, but TSC gave me confidence that they put customer satisfaction as their top priority. To back up their promises of customer satisfaction, they have decades of experience in the HVAC field. After installation, they had to come out to make an adjustment, but they were extremely friendly and they addressed the issue perfectly. I would highly recommend TSC to anybody considering a new AC system, HVAC repairs, or seasonal maintenance.

Great Service and Value!
The gentleman from TSC helped us with our unit when it broke. The were very friendly and didn't make us wait very long. I was extremly happy with their service and the cost was very reasonable. Thanks again to TSC and if you need someone reliable call them.

Response from Don:
Thanks for taking the time to write such a nice review. We appreciate your business and look forward to serving you in the future. Please call me if you get time, I don't recognize you by your email address. Don Kaczmarek TSC Mechanical 602-762-0469

Highly recommend
They did what I needed without trying to 'fabricate' problems like some of these companies do. The work was done right the 1st time they worked on the problem. I have since told my friends about them and one has already called them and gotten the same results.

Honest and Timely
They did what I needed without trying to 'fabricate' problems like some of these companies do. The work was done right the 1st time they worked on the problem. I have since told my friends about them and one has already called them and gotten the same results.

Honest and Timely
…all HVAC companies had the kind of integrity, professionalism, and customer service attitude evinced by Don and his sons. My neighbor told me about TSC after they bought an A/C unit from them, and they were really lavish in their praise. Turns out their praise was well-founded. TSC saved me a wad of cash not once, but twice now, within the space of a few weeks.

Case 1: My A/C unit was in its death throes, and the electric bills were killing me. After consulting with TSC, we decided to go for it. They showed up when they said they would, removed the old unit, installed the new one, gave me all the paperwork, and had everything set up for me to get the rebate, just like that. Painless. Not only that, Don called a few days ago to inform me that he had done a bit of research and discovered that I was eligible for an extra $200 rebate from SRP. This was a few weeks after the install, and he gained *nothing* by taking the time to call and tell me about it, but he did it anyway, because that's the type of guy he is. In today's mail, I got the extra paperwork he promised, to allow me to get the SRP rebate.

Case 2: A tenant called to tell us that the AC in their house had stopped working. My wife called a different company to take a look, and they informed us that the cooling coil had gone and that it would cost about $3k to fix, and we would be better off just replacing the whole A/C (for about $4200). Sounded a bit fishy to me, so I called Don, and he agreed to take a look (I called him ~ noon, and he was there by about 4 or so, SAME DAY!). Don couldn't find any of the leaks the other company found, but did find the freon low, so he charged it up, and the tenant is now a happy camper. Original estimate to fix? $4200. Don's final bill? About $250. Do the math.

Bottom line? I have NEVER, EVER dealt with any plumber/electrician/HVAC/home contractor type that is as ethical, honest, and serious about his professional reputation as Don from TSC Mechanical. TSC will get my business exclusively from now on, as will anyone that they should recommend to me.

I wish…
As a small business owner with the responsibility to care for my units A/C I was faced with one of my two A/C units not working and knew I had no choice but to get it repaired. I called one A/C repair company and was told that I needed to repair the unit for a cost of $3000 or get the unit replaced for nearly $5000. That left me to shop for bids. Two other companies came out and the story was much the same and then I got in touch with Don of TSC Air Conditioning. Thank God! He rescued me. His extensive knowledge of air conditioning units, integrity, and honesty had him finding that there was a probelm with the unit, but a minor one that he was able to fix right then for a fraction of what three (3) other so called professional AC repair companies were trying to get from me. I also scheduled him to do the service on my two AC units and his charge was small, $170 and this included pad replacement. I have found my AC service and repair company and will tell anyone who needs this type of service to call, get your appointment and wait for them and them alone to do any of your AC work.

I am completely satisified with their work and fully trust their word.

Norma J. Alvarez, co-owner
Slot Machine Store
7050 W Chandler Blvd.
Chandler, AZ 85226

480-752-9669
www.480playnow.com

Response from Don
Norma, thanks so much for the rave review. It was so nice of you to take the time to write such a great review. As a fellow small business owner, I'm sure you know how nice it is to be appreciated by your customers. Again, thanks so much and I hope your business is doing well. We'll be calling soon to schedule your spring maintenance. Thanks, Don Kaczmarek

Norma, Owner of the Slot Machine Store
My air conditioner broke about a week ago when it was 112 degrees. I got 3 estimates and TSC was far and away the best. A long story short, they fixed my a/c extrememly quickly and saved me some money. I am very pleased!

Thank you!